" I will not say I am good at doing interviews, this is just a post thanks to dms with a artist on Twitter that I have followed for years. Hope you enjoy it as much as I did chatting with him."
This is an interesting story that I thought would be pretty neat to share. As you may not know, I am from a family of artists! We all do art as an art form in one way or another, using different types of items to create with. I work with mica powders and iron oxides to create vegan mineral makeup specializing in loose pigments eyeshadows and blushes. My brothers use dyes and create tie-dye masterpieces of art. They even have their own store in Las Vegas where they can showcase their art to the world!
When it comes to art, there are so many forms on it. I had no clue till I started chatting with Dave that his work is not on canvas with paint, but through the eyes of a camera!
Now I met Dave like many of us do on a social media platform, in this case it was on Twitter. I don't know how I started following him or even when, but its really pretty cool to be followed by someone with a blue check mark next to their name. (That means they are who they say they are, not someone else trying to use their name)
Dave is a true artist! He has a shop at https://www.davevescio.com/, and he shared with me in DM his new pieces of art that he was now offering. I went to look and that lead me to started asking him questions when lead to this interview with him! Pretty neat huh?
The fact he was willing and kind to take the time to answer my questions? I thought it would be a wonderful blog post! So what I am doing is sharing the DM's we did because he pretty much did a interview through them!
Dave:
Hi! What do you think of my art? I would love to hear your thoughts & insights about my latest art pieces. I just added six new collections of art at: https://davevescio.com. You can also receive 20% off + free shipping on all my art if you join my VIP Club email list. I hope you have a great day & feel free to share the art with whomever you like! 🙂
Me:
Hi Dave!
You have amazing eye for color! Very bright and cheerful yet some are dark and show a different side of you. Not that I could afford them, but ever thought of offering maybe smaller pieces of art? The size you are offering would make a great conversion starter if you had a room big enough.They are outstanding pieces of art.
I really liked the ones of the Grand Canyon and the reason is that I visited there when I was a child. You really brought out how massive it is. How wild and unique in colors and textures.
Dave
Aww, thank you for that Kim, I love everything you just wrote. Thanks again! 🙂  I use the highest museum quality materials, substrates, and archival inks when I create each & every one of my art pieces. They are all limited-edition art pieces (besides the Gift Shop collection), meaning, only five to six people in the whole world will ever own that one specific image in their home.
Me:
I am a creator who works with colors all the time. What gave you ideas for some of the work that you ended up taking photos of? The darker, more complex ones?
Dave:
And to answer your question…. This is how I describe my series called "They're Always Watching Me": My main goal for taking macro/close-up photographs of urban decay is: How do I make the old, ugly, and the discarded look beautiful, strong, and colorful again? And why do I see faces everywhere I look? Who is always watching me? Are they spirits or other worldly beings like the supernatural? Or did the people who originally make these objects – like the steel dumpster, the asphalt parking lot, the metal sign, the traffic road cone, the billboard poster, or even the graffiti tag – transfer their energy source somehow someway into these original objects, and then all of these different human energy sources in all of these different original objects (which have been decaying away on top of each other for years or decades at a time) are now forming into a brand-new source of energy / life and that is what we see instead? And how do I properly capture these *new beings* in their true essence, full of color & full of life?


Also, in my bio, I wrote these three paragraphs that talk more about my process as well: On my 50th birthday, I picked up a camera to invent a new style of abstract/fine-art photography that deals with that fine line between the life & death of objects, then death & decay, and now, a rebirth (aka spirits or other worldly beings like the supernatural). I specialize in up-close and personal, macrophotography of urban decay.
I have even won three international fine-art photography awards for these artworks.
My mission with abstract/fine-art photography is to reveal to the world that even in death & decay, there is still beauty, as well as a new source of energy/life that wants to be born into this world, just in another way. We just need to look at it from a different light, a different perspective. Life truly never ends! It just gets reborn into this world again & again as another essence, another beautiful being. Just like how a caterpillar gruesomely transforms into a butterfly!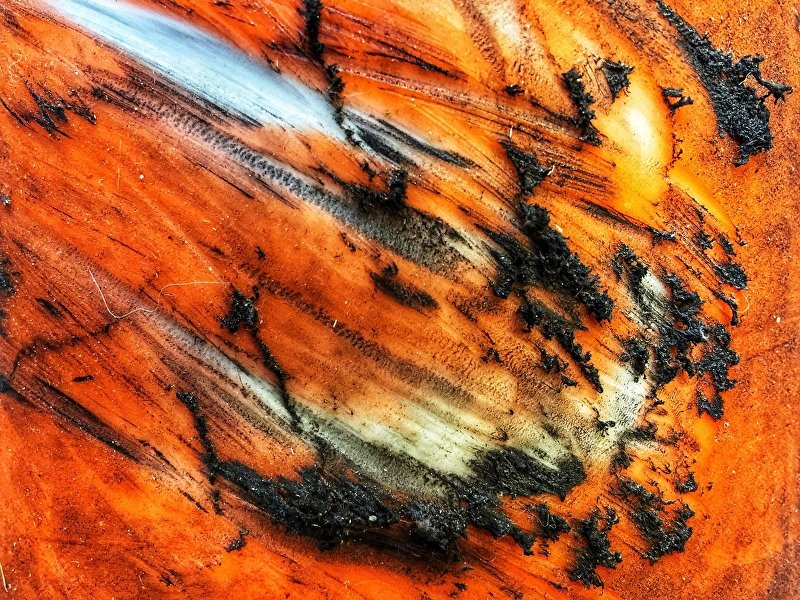 I also give my limited-edition abstract/fine-art photographs another kind of *rebirth*, by printing them on materials close to what they were originally born on. My macro/close-up photographs of metal decay are printed on archival metal; my macro/close-up photographs of decaying plastic are printed on archival acrylic (which is a plastic); to etc. It is my way of making sure my abstract/fine-art photographs become more life-like than ever before; making them seem like the actual objects that I photographed in the first place.
Me:
Wow, that's amazing to hear! I love hearing how an artist does what they do or see what they see as art. I love colors, I love bright yet dark images. Sometimes the story behind the artist work is even more fascinating and makes the work more desirable. That's amazing, you have won awards as well. Is this something you to do most of all?
Now that it looks like more places are opening up again here in CA, are you planning on showcasing your work anywhere? Have you in the past, done an event?
And yes, I'm a full-time contemporary artist and I plan on doing this for the coming decades. I just LOVE this kind of art, you can literally do anything with it these days. 😀 And I have tons of ideas that I need to materialize in the coming future. 🙂
And I'm pretty much brand new to contemporary art. I did performance art for the world-famous contemporary artist Paul McCarthy for about two years in 2016 to 2018.
And I picked up fine art photography last summer during the lockdowns and won three international awards so far this year and as you can see have dozens of my art pieces on my artist website. So, all brand new to me. 🙂
This is the link to his bio: https://www.davevescio.com/about. And you can sign-up to be a VIP Club member anytime you like: https://www.davevescio.com/email-newsletter. Also know, you can use the 20% off + free shipping on the "Gift Shop" collection as well. 😀
Dave:
Thanks Kim I totally do appreciate everything you just wrote! Thank you, thank you, thank you! As for smaller pieces, in my collection called "Gift Shop + Posters" those are 9 inch by 12 inch or 12 inch by 16 inch fine art paper prints and they cost anywhere from $50 to $100 each. As for my limited edition collections, they are only 12 inch by 16 inch in size, which is pretty small for most collectors.
Check out his bio! You will be able to read who he got to be where he is now. It was so much fun doing this, and I hope I can do more interviews with other artists in the future!