So, you got a big first date coming up this weekend and not sure what to do to get ready? Has it been that long since you even got to go out on a date in public?
Here are five tips for you to help you out.
Tip 1 – Give yourself time. Take time to do things you can do ahead of time, such as getting a manicure / pedicure done. (Yes, guys, there is no reason why you don't do the same) believe it or not, but you can be judged right away if you have hands that are rough looking, nails have dirt under them or if you have nail polish that is clipped. It might not mean anything to you, but if you can't take care of your nails, what else are you not caring about? If you don't have time to get a full pedicure done, at least remove any clipped nail polish and check for ashy heels, and your arms for dry elbows.
Tip 2 – Don't dye your hair the day of or the day before.  The reason why I say that is, I get my hair dyed and there are times when there might be a little left on my neck. I get purple in my hair so yes, it does show for a few days. That is why I suggest you don't, if you are getting your hair done in fun colors. 😀 But do take time to keep your hair, makeup and accessories simple. Don't overdo anything at all possible. Remember, it's your first date and a lot of things are judged at first sight before you even start chatting. If you are leaving work for your date? Take time to clean up and redo your makeup. If possible, take what you are going to wear to work, or run home to get dressed.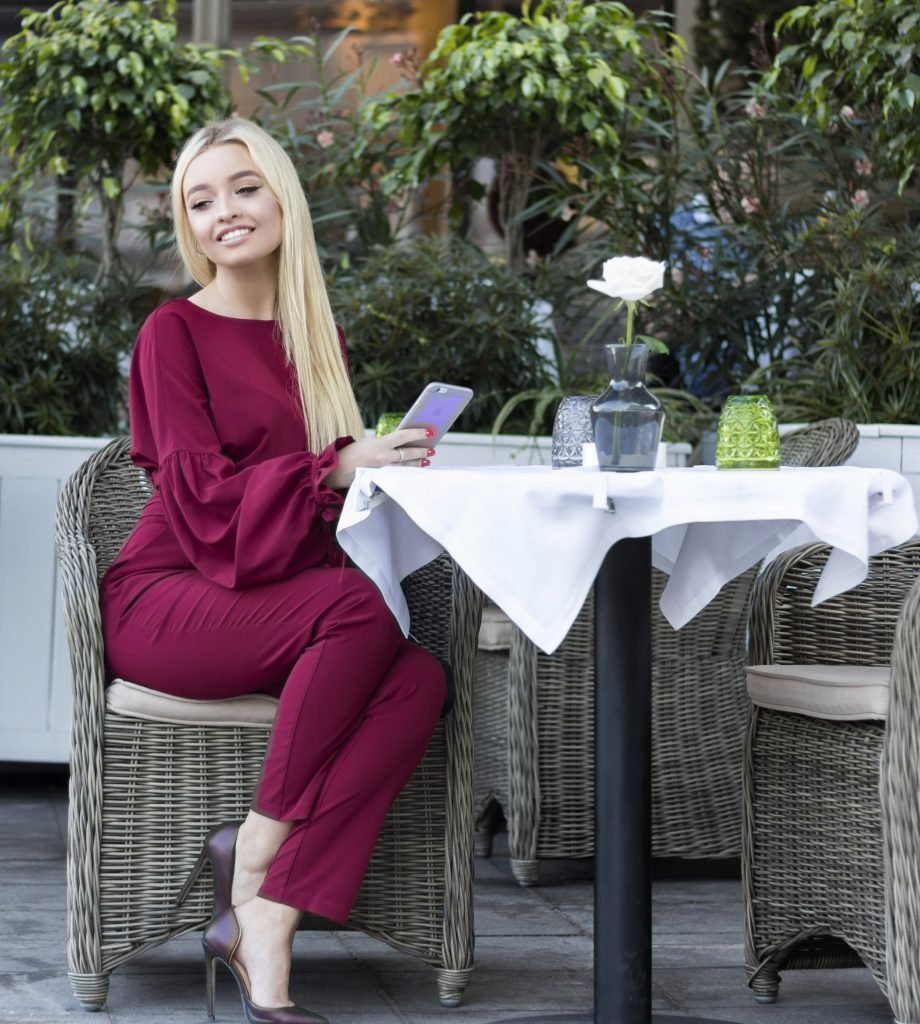 Tip 3 – When it comes to your makeup, try to keep it low-key. Take care of your eyebrows, but if they need a little work on them? Tweezer any hairs that are out of line with your arch. Best to do these the day before, so there isn't any redness you need to cover up.
Don't go overboard on your makeup, stick to a simple look, that is easy to touch up if needed. Go with one item to be bold, your eyes or your lips, which one you feel is your best feature. Looking for nice all natural makeup? Check out Overall Beauty Minerals for all your makeup needs.
Tip 4 – Try to invest with getting anything you wear tailored. Since most dresses off the rack never perfectly fit the majority of us, working with a tailor can help be sure the length, waist, back and shoulders conform exactly to your body. The last thing you want is to expose your bra straps. They are called undergarments for a reason. 😀
Tip 5 – If you are hoping that your date ends with coffee in the morning, take care of how your body looks over all. Soft skin, so take a shower before your date. Use a lightly scented body butter to soft your legs and arms. Don't go overboard with cologne or perfume. No one wants to be with someone if they smell like their cologne, greets you before they do!
Wear tasteful undergarments. If they make you feel pretty / handsome? That shows when it is time to show them off.
Remember, you can tell if someone is wearing shoes that are too tight, it also true with what you are wearing. You need to be comfortable in what you are wearing, because it's the last thing you need to be worrying about.
I hope these tips help you out, and now go enjoy yourself!