Citrus fruits are a fantastic source of vitamin C, which helps keep your skin smooth and elastic. You'll probably notice at the store how many face creams contain vitamin C, as do other products for the body. This is because citrus really does work to make your skin and hair healthier. One thing to think about when buying ready-made products with vitamin C in them?
You need to check to see if there is a Used by Date on the jar of skincare, when it was made and how it was made. Also, when looking at the ingredients label? Check to see how close vitamin C is listed in the ingredients label, the closer to the top? The more vitamin C is in the jar of skincare. That is about ready-made products, here below is a list of ways you can use it, without buying costly products.
1. As an Astringent
Citrus is antibacterial and due to that is an excellent way to help dry out your skin a little, getting rid of extra oils while clarifying your skin and cleaning it to avoid breakouts. You can literally just take some fresh lemon juice on a cotton ball and rub it over your t-zone to get rid of oil and dirt, helping you avoid breakouts.
2. As a Morning Wake-Up Call
Add citrus ingredients to your shower in the morning, and it will help you wake up without additional coffee. The smell energizes and uplifts almost immediately. To make your own orange scrub, add dried orange zest to any sugar scrub recipe. I added my two favorite body washes because not all of us can use sugar scrubs in the tubs. I am 60 years old and can't have oils in the bottom of my tub. But I love the smell of citrus based body washes! They can really wake you up! My personal favorites are by Saavy Naturals and Seaweed Bath Co.
I have Citrus Vanilla by Seaweed Bath Co. in my shower right now in fact! I love how it makes my skin feel and the smell is delightful!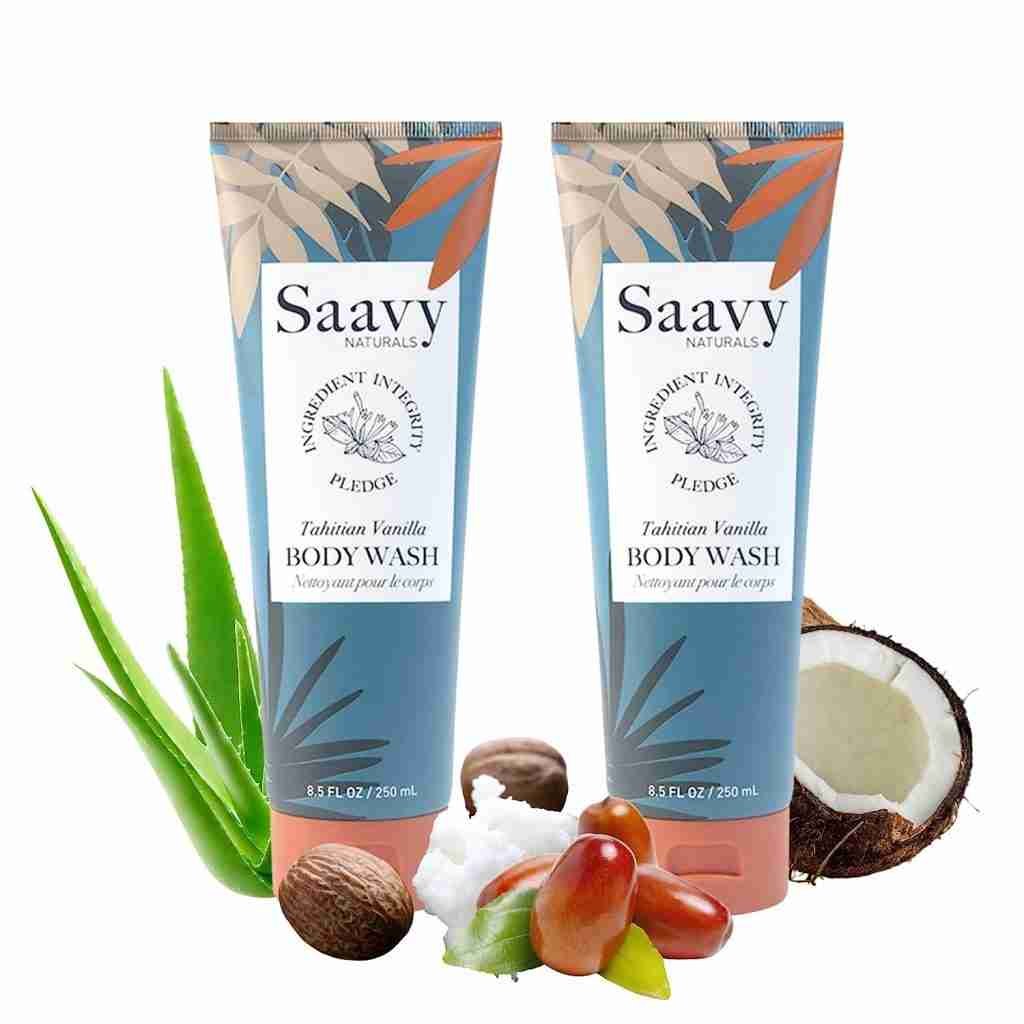 Saavy Naturals is a little harder to find. Right now, I have to buy it as a two-pack off of Amazon. Which is a real shame because its an amazing body wash, just a little pricer than Seaweed Bath Co. is. I started using Saavy Naturals because I could buy it as a deal for $4.00 and then it went down to $2.00 at my local Raley's.
3. To Shine Your Hair
Add one cup of lemon juice to one gallon of filtered water. Use this as a final rinse for your hair. It will rinse out the oils and leave behind a beautiful shine. Since you don't rinse it out, it may also slightly lighten your hair in the sunshine, giving you that sun-kissed glow. Years ago when I was a kid, because I am blonde, I would sit in the sun with lemon juice on my hair in hopes of lightening it up. I forgot to add it to water so my hair smelled like lemons all summer long!
4. Now I Have Heard It Can Keep Your Dandruff Under Control
You can also use lemon juice to help cure dandruff. Just take a couple tablespoons of lemon juice after you've already washed your hair. Add the juice and rub on your scalp, allowing it to set for the rest of your shower. Rinse it off with cool water before you leave the shower.
5. As a Conditioning Hair Mask
Mix equal parts raw honey with fresh lemon juice and virgin coconut oil (you can also use olive oil), then apply to your scalp over dry hair. Let the mixture stay on your hair for at least 20 minutes. After it sets, you'll want to wash your hair with your regular daily shampoo.
6. To Moisturize Your Skin
Add a couple drops of citrus juice like lemon or orange to coconut oil. Rub that on your skin to brighten it and help the oil moisturize your body. Add extra to your elbows and knees to lighten them up as well as make them less rough.
7. To Get Rid of Blackheads
This is super-easy. After you've already zested and juiced your lemons, you can still use them. Store in a container in the fridge. Take the piece out and rub on your skin before bed where you have blackheads. No need to rinse.
8. To Cure Dry Lips
Mix some light brown sugar with lemon juice until it's easy to spread and rub. Rub over your lips gently for 30 to 60 seconds, then rinse clean. You can use this scrub for other parts of your body too.
9. Lemon Acid Treatment for Elbows and Knees
This is super simple to do. Slice a fresh lemon in half; rub the exposed fruit over your very dry knees and elbows. Pat dry with a towel, but do not rinse. The citric acid will speed up skin sloughing.
The great thing about using citrus for your hair and skin is that it's not that expensive to buy, although it can be expensive to buy already made products with citrus in it. So, just make your own. There are numerous recipes you can find online to create your own citrus-based skin and haircare.
Do share your favorite citrus-based skincare recipes!!