Apple cider vinegar is a health remedy that has been around for centuries. In fact, in 400 B.C, Hippocrates, the Father of Medicine, treated his patients with amazing raw Apple Cider Vinegar, because he recognized its powerful cleaning and healing qualities. It's derived from fermented apple juice and has a plethora of uses and benefits. This is one of those holistic remedies that people often overlook. It's a naturally occurring antibiotic and antiseptic that fights germs, viruses, bacteria, even mold.
It's inexpensive, easily available and conveniently forgotten. Yet, it's highly potent and will help to boost your health in several ways, if you use it.
But before even looking at the health benefits. There are some thoughts on how you can add it to your lifestyle, but there are a few questions you might be asking.
Why is apple cider vinegar so wildly popular? Even after 7,000 years since it was first created.
Its appeal stems from its vast array of applications. It is used therapeutically to improve one's health, by managing symptoms and assisting your body in fighting diseases. The beauty industry uses the prime ingredients in apply cider vinegar to improve the overall look and feel of your skin's tone, hair shine and your smile. It cleans and disinfects your home, cutting down the need for all those chemical-laden products.


Top selling brand has got to be Bragg! The brand has been around since 1912.
Now let's look at the overall benefits of this miraculous 'potion'
1. How much apple cider vinegar should you consume?
This is one of those remedies that should be consumed in moderation. If you're just starting out, you may consume one teaspoon of apple cider vinegar diluted in a cup of water daily. Drinking apple cider vinegar undiluted will weaken tooth enamel because the vinegar is acidic by nature.
After a week or so, you may consume 1 tablespoon of apple cider vinegar mixed with water daily. Generally, mixing 1 tablespoon of apple cider vinegar with about 100ml of water should be enough to dilute it for consumption.
About a month of this and you may go up to 2 tablespoons a day. There's really no need to go above 2 tablespoons, and it's not recommended either.
2- Helps your hair:
Apply it on your hair to strengthen the follicles. When your hair isn't looking its best, looking dull and maybe breaking more easily? It could be because your hair has been damaged from exposure to the UV rays from the sun, heat, pollution, or any number of different chemicals found in hair products and treatments.
Want to add shine and lock in moisture? Uses apple cider vintage to cleanse your hair which helps remove any product build up that weighs your hair down. By having a spray bottle filled with 1/2 cup apply cider vinegar and 4 cups of water, use it in place of your shampoo to cleanse and clarify your hair. Spray liberally all over your hair and gently massage it thoroughly into your scalp and hair. Avoid your eyes. Rinse after a few minutes.
2. Aids in digestion:
Apple cider vinegar contains probiotics which will help with the digestive process. Not only will it regulate your stomach acids, but will improve your gut health too.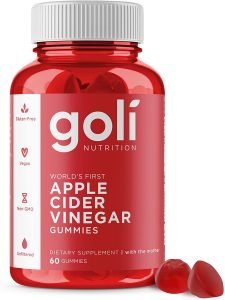 3. Improves heart health:
Studies show that regular consumption of apple cider vinegar helps to keep your bad cholesterol (LDL) levels low. This will help to prevent strokes and cardiovascular disease. Check with your doctor before testing it.
4. Better weight management:
Want to lose weight? Apple cider vinegar will give you that edge you need. It'll curb your appetite and since it keeps your insulin levels stable, you'll eat less and your body will not be storing fat so easily. Check with your doctor first.
5. Has anti-cancer properties:
Apple cider vinegar helps to maintain the pH level in the body. The general idea behind the anti-cancer theory is that cancer cells cannot thrive in an alkaline environment. Since the vinegar alkalizes the body, the cancer cells will not be able to grow.
While there is debate in the medical community about apple cider vinegar's efficacy, the truth of the matter is that it doesn't hurt to consume some daily. After all, it's also anti-bacterial in nature and will help to destroy any pathogens in your system.
Besides these 'internal' health benefits of apple cider vinegar, it can be used for treating several other maladies too.
6. Lowers blood sugar levels
This is a very powerful benefit and is fantastic for people suffering from type-2 diabetes. Apple cider vinegar helps to improve insulin insensitivity. Coupled with a low-carb diet, it can help to reverse diabetes.
It's best to speak to your doctor first before you try this remedy. It's safe, but you should get professional medical advice.

7-To clean with:
It is in fact one of my favorite ingredients to clean with! I have been using this brand of glass cleaner on my floors, my lid of my toilets and my sink in my kitchen. It does work!
This is a highly versatile 'supplement' that can be used to treat migraines, sinuses, bug bites, nausea, gout, hypertension, and much more. Do your research and discover how you can use it in your daily life to improve your health.
A bottle of apple cider vinegar is one of those holistic health remedies that should always be a part of your medicine cabinet. Do give it a try today.