While this is a very comprehensive list of anti aging products that are on the market today, this is really just the
tip of the iceberg. Modern technology is striving every day to come up with new ways to help people stay looking
younger, longer
Here is a good list of 10 ingredients that are Non-Toxic and are for helping keep wrinkles at bay.
1-Coconut oil–
Coconut oil has been known for centuries for it's moisturizing abilities. It also very close in structure to sebum, the oil that our bodies produce naturally. For this reason, coconut oil is absorbed easily into the skin, and a little bit goes a very long way. Not only is it good for skin care, but is also considered a healthy fat.
2-Olive oil–
Olive oil is another oil that has been used for hundreds of years for it's healing, moisturizing, and heath benefits when used for cooking. Olive oil is a very versatile product that can be mixed with other natural ingredients in your home to make skin scrubs, hot oil treatments, and a multitude of other home remedies.
3-Jojoba oil–
Jojoba oil is just as effective as coconut and olive oil, and can be used in the same way as olive oil to make homemade beauty treatments.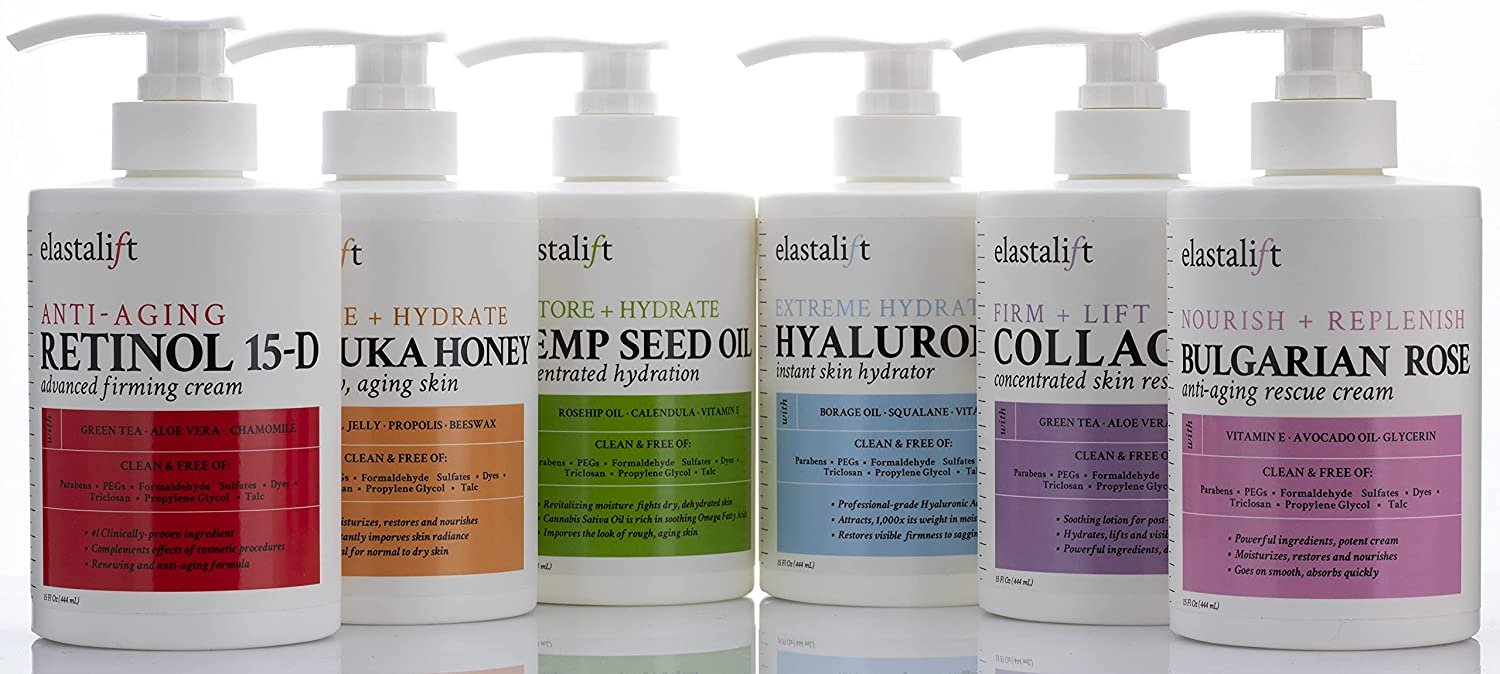 4-Hyaluronic acid-
Hyaluronic acid is literally the "glue" that holds together the collagen and elastin fibers in your skin. Loss of this acid leads to dark circles and loss of a youthful appearance. HA is naturally occurring in the body, but decreases with age in most individuals. While it can be found in many anti aging products, it is recommended that it also be taken in supplement form, so that it can work from the inside out.
.
5-Vitamin C –
Along with its cold fighting properties, Vitamin is an anti- oxidant that promotes collagen production and helps to recycle Vitamin E. When used in skin care products, Vitamin C promotes fewer wrinkles, tougher skin, and an all around smoother complexion. Not only that, but it also repairs skin that has been damaged by UV rays and smoking. Some people have reported that Vitamin C can cause some stinging and irritation when applied to the face.
6-Vitamin E –
Vitamin E is still one of the best things you can apply to your skin for wrinkle control. When applied regularly it will lend a youthful and wrinkle free look to your face. There have been reports of red and swollen skin when using Vitamin E regularly, but this is rare.
7-Aloe Vera–
Known for it's healing properties, Aloe Vera is also very good for tightening the skin, and when mixed together with Vitamin E in equal parts, you have a double duty anti aging cream that will soften as well as tighten your face. Although this is a very good eye cream, care should be taken not to get it in the eyes.
8-Royal Jelly–
Royal Jelly is what the queen bee eats to survive and is reportedly the one of the most nutritious things you can eat. Whether applied topically to your skin, or taken in supplement form, Royal Jelly is definitely a force to be dealt with in the anti aging scene. People who have known allergies to bees should not consume royal jelly as paralysis or even death could occur. If you do not know if you are allergic to bees, you may want to consult with your doctor for an allergy test before consuming Royal Jelly. **Please note that this isn't vegan friendly.
9-Alpha Lipoic Acid –
Alpha Lipoic Acid is a naturally occurring anti-oxidant, which acts as a defoliant, and reduces the appearance of fine lines, wrinkles, and age spots. Another benefit of using this product is that it has a protective effect on Vitamin C and E, which encourages regeneration of the cells. Common side effects are inflammation.
10-And don't forget to Eat your Vegetables!
Eating green leafy vegetables such as fresh spinach and collard greens are essential for a healthy diet, as well as eating fresh fruit. While eating red meat in moderation is acceptable, fish is a much better source oh Omega 3 fatty acids, which lead to all around whole body health. Also, the great debate about eggs is finally over. What people have known for generations is true; eggs are full of protein, and with one egg healthy to consume or not.
However, as the old saying goes, beauty is not only skin deep. Many times, what you see reflected in the mirror is a result of what you have been putting in your body. Good nutrition is essential in maintaining a youthful, healthy appearance. Staying away from overly processed, prepacked foods that are filled with preservatives and saturated fat is not only unhealthy for your heart, but when you are not healthy it shows in your face.