I guess I am lucky. After years of being on the web, when you get a email from an amazing PR provider for a product and you ask for samples, they said sure! (Thanks Melody !!)
What am I talking about? Well as many may know I am really into vegan products as much as possible. Skincare, makeup (still looking for that just right mascara), hair care, body wash and so on. So when I got this email about products by TwinMedix I had to check them out! And wow, I am so glad I did!
Eye creams are a hit or miss for many people, I have read over the years that they tend to be a waste of money because why not use your moisturizer?  And to a point, I have found lots of eye creams not worth the money but every now and then a real gem comes out. What gem am I talking about?
Well I would love to introduce Twinmedix  Pro:Refine Eye Corrector!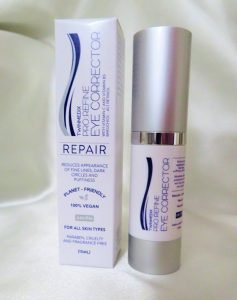 I have been testing out the eye cream for about a month or so and I have to say I really do like it! I started wearing a CPAP Mask at night to help me sleep and I have run into a bit of a issue with what it is doing under my eyes. It is causing a bit of a puffy spot under each eye. I have been trying different products over the past few months and they have mostly not worked at all. I started using the eye cream and I have found that its slowly working to at least bring a bit of the puffiness down. It is a on going battle with my CPAP Mask and the puffiness it causing under my eyes, but at least I have found a eye cream that is helping me. I think its due to the fact that its comes with Bakuchiol, which is a natural retinol, so its tights under my eyes helping combat what my mask is doing to under my eyes. You can feel it too.
So I asked the company a few questions:
What age group is this eye cream most popular with? "Our eye cream is popular with all ages. We have received great feedback from those in their teens as well as the more mature consumer. Since our ingredients are vegan they are great for all skin types and the anti aging properties keeps the skin smooth, nourished, plump and improves the skins texture reducing appearance of fine lines and wrinkles."
Are their products found anywhere else besides their website? "They offer a select list of retailers on their website."

Do they plan on coming out with a face cream that has sunscreen in it? "Yes, this is currently in the works." (If you have read any of my posts about skincare, I am super big on having sunscreen in my skincare products. I am still looking for a awesome vegan one.)
Why vegan? "We have been working in this industry for many years, have researched and evaluated what is best for skin and found that vegan products are actually better for you. What you put on your skin gets absorbed into your body and we want the purest ingredients that help nourish your skin without any harsh effects. For someone with sensitive or condition-prone skin, animal ingredients can be harsh and clog pores, so vegan products are a better alternative. You will see the lasting effects of vegan and natural ingredients on your skin for years to come."
Credit: Tammy Fleming, Vice President for TwinMedix
Here is a wonderful article I found about this ingredient: What is Bakuchiol?
The eye corrector is about $35 and that is about the right range in costs for eye creams. The fact its is vegan makes it even higher in my books for a skincare product. I think its worth a try because its does do what its meant to do and that is tighten under your eyes your fine lines you don't want anyone else even knowing they are there. It does take time for it to show what it does, and you are only using a tiny bit each day. In fact Twinmedix gave me a coupon code for you to use that will work for any of their products!
Use coupon code kmms02 to take 20% off!
Thanks again for checking out my blog post. I am also working on one for their moisturizer and they have a brand new amazing makeup artist to help bring their brand out more. I can't wait to interview him!!
I was given this product with a possibly I would do a review for it. The words, and review are mine and are not influenced by the fact I was given this product for free. By clicking on any links there is a possibly I would receive a small amount of change that is used to help fund the running of this blog. Thanks!