For those who maybe not know, I am also the owner/creator of Overall Beauty Minerals, a vegan mineral makeup brand I sell on Etsy. A while back I found out about Eye Candy Pigments, and being I am always looking for pure mineral pigments to create with, I had to check them out.

Now, if you could see just how much I have, which is why I added a image below of just how much I got, you wouldn't be surprised when I see an awesome sale, that I just have to share it!
Just what is that sale? They are having a special deal where you can buy 2 x 50 gram jars of either, blacks, greens, purples and blues and get 1 free! With no coupon code needed!
Eye Candy Pigments is thrilled to present an offer that has never been seen before. For a limited time, when you buy (2) of our incredible 50 gram mica powders, you'll get (1) 50 gram absolutely free!

What is so awesome about this deal is, most 50 grams are about $15.99, and they have free shipping (for pigments only) over $49 bucks. You be amazed about the amount of money you can save! It can not be combined with any points or other coupons. Seems fair, don't you think?
Just to give you an example of what the sizes look like. I usually by 25 gram size jars of colors to use, if I use a lot of a pigment I would buy the larger size. I use a lot of a color pigment called YORU BLACK, so I buy it in 50 gram size jars.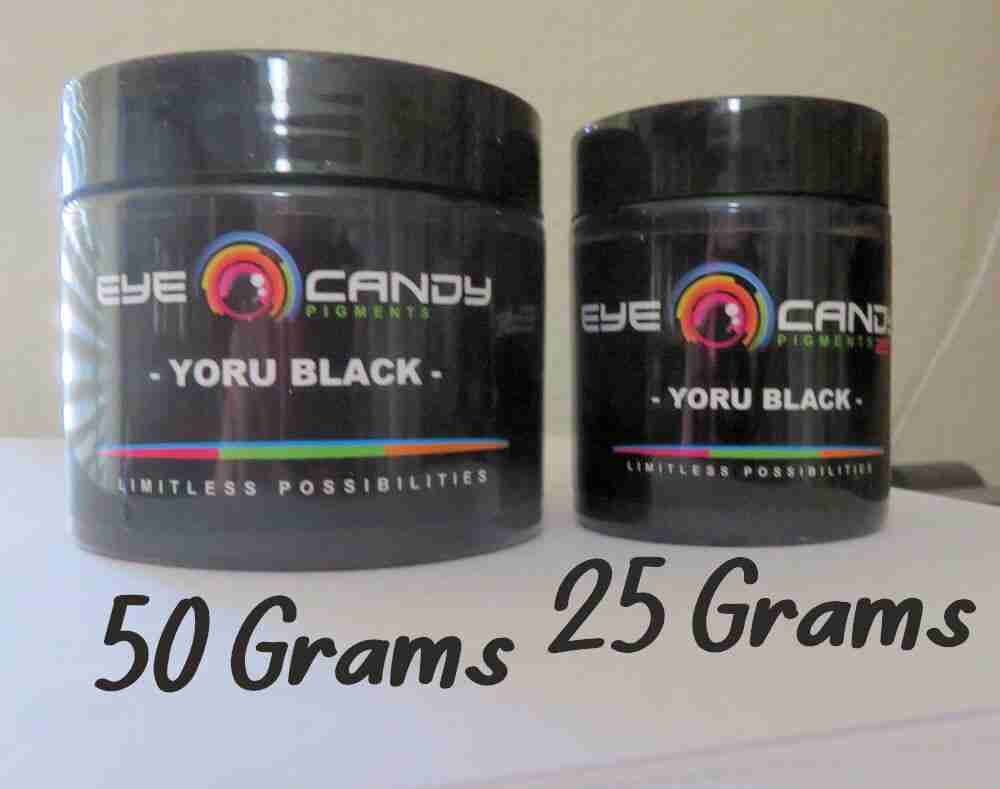 It is a wonderful black to work with, 😉 It will take me a while to use it all up, but I did take part in the sale and bought more.  I am a huge fan of their pigments, and you can use them for other things besides eyeshadow creation, which is what I use them for. Check out their website to see what I mean!
I went out and bought shelving, so I could have a place in my office for all the Eye Candy Pigments I own for eyeshadow color creation. If you want to know which color I use YORU BLACK for? Drop me a comment below! Oh, and maybe I will share the recipe too 😉
I will be upfront and tell you I am an affiliate of theirs, and I will, make a bit of cash when you buy any of their products (which I use to help run this blog)